Return to Headlines
WSD Students Win Annual Cuivre River Youth Tour Competition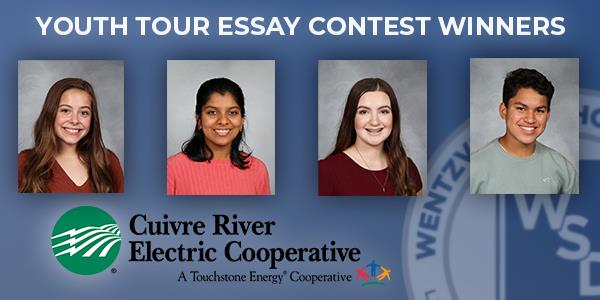 April 19, 2021
Four students from the Wentzville School District have been selected as winners in the Cuivre River Electric Cooperative's 53rd Annual Youth Tour Competition. Sanjana Anand, Taylor Shay-Jakul, Amanda Yoder, and Jaden Zelidon from Liberty High School were selected as four of six winners out of almost 60 entrants from 12 area high schools in the annual contest that begins with an essay submission. The essays, all entitled "My Favorite Cooperative Principle," were judged based on the student's cooperative knowledge, composition, originality, grammar and neatness. Normally, a finals banquet and competition are held each year where finalists present their essays orally. However, due to the coronavirus situation, the judges read each of the essays remotely and the scores from the preliminary and finals competition were combined to determine this year's Youth Tour delegates.
As Youth Tour delegates, Anand, Shay-Jakul, Yoder, and Zelidon will each receive a $1,000 scholarship and a laptop. Due to the COVID-19 pandemic, this summer's trip to Washington, D.C. has been cancelled. The delegates will be invited to this year's Youth Tour Conference scheduled for June 16-18, which will be a combination of in-person and virtual experiences, with students learning more about government, leadership, and cooperatives. Two days will be spent at the Cuivre River office and one day will be spent in Jefferson City with delegates from across the state of Missouri.
Liberty students Sarah Dickson, Elizabeth Hamby, Kelsey Looney, and Jackson Martin were finalists in the competition and will each receive a $500 scholarship.
Since 1964, Cuivre River has sponsored over 200 Youth Tour delegates. In a typical year, delegates visit their U.S. congressional delegations, attend energy and grassroots government education sessions, and spend time sightseeing in Washington, D.C. More than 53,000 high school students sponsored by electric cooperatives nationwide have participated in the Youth Tour since the leadership program began.