Return to Headlines
Ratchet Rockers win Engineering Inspiration Award and Qualify for Worlds
The WSD Ratchet Rockers Robotics Team 1706 won the Engineering Inspiration Award and was part of an alliance that finished in the quarterfinals at the FIRST Smoky Mountain Regional Competition in Knoxville, TN March 29-30. The award celebrates outstanding success in advancing respect and appreciation for engineering within a team's school and community. The Engineering Inspiration Award also focuses on measurable efforts with outreach and commitment to STEM, and acknowledges year-round efforts in the community beyond building a robot. The team's work to host and run local robotics events, participation in local STEM activities, and the support extended to other FIRST teams and groups at their home facility were also acknowledged. As winners of this elite award, the team earned a spot at the World Championship Competition in Houston, Texas April 17-20 and the team's registration fee for the event is covered and sponsored by NASA.
"It is only with the support of the Wentzville School District, business sponsors, community, mentors, and families, that the Ratchet Rockers are able to succeed each season," said team mentor Brandy Antonio. The team's recent campaign, "FIRST for ALL," was also recognized at the Knoxville competition. This new coalition developed by members of the WSD Ratchet Rockers is growing awareness and working toward inclusion and accessibility for FIRST robotics at all competitions.
FIRST (For Inspiration and Recognition of Science and Technology), is an innovative program that encourages young people to pursue STEM education and career opportunities. Each year, First Robotics Competition (FRC) teams participate in a six-week build season that leads them to compete at regional, state, and world competitions. At the Smoky Mountain Regional, the Ratchet Rockers competed in a pool of 51 teams from nine states, as well as from Canada and Germany. Team 1706 reached the quarterfinals as part of an alliance with Team 3824 (HVA RoHAWKtics from Knoxville, TN) and Team 4504 (B. C. Robotics from Maryville, TN). The Smoky Mountain Regional was the second competition of the season for the Ratchet Rockers. Throughout the build season and during competition, the team has worked to continuously improve their robot's abilities and performance. Match information for the World Championship can be found at www.thebluealliance.com, and matches will be streamed live on twitch.tv. For more information about the Ratchet Rocker Robotics Team 1706 and their robot R5, visit their website: ratchetrockers1706.org or follow them on Facebook and Twitter @FRC1706.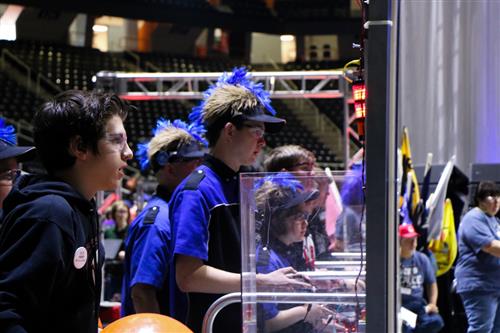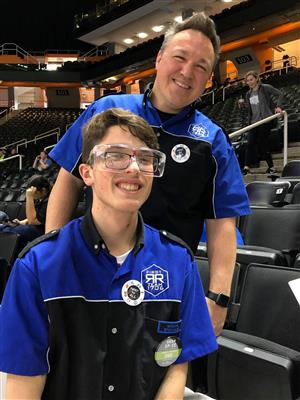 (Team mentor Brandy Antonio and Liberty student Abigail Shields both contributed to this story.)