Return to Headlines
Two WSD Educators Selected as Finalists for Presidential Teaching Award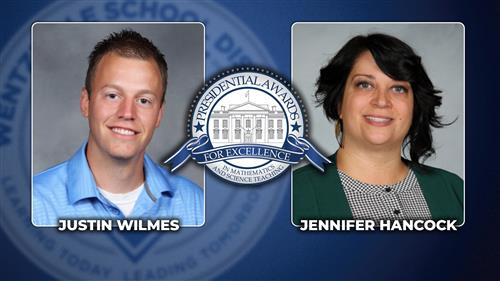 May 10, 2021
Wentzville School District teachers Jennifer Hancock and Justin Wilmes have both been selected as Finalists for the 2021 Presidential Award for Excellence in Mathematics and Science Teaching (PAEMST). The award is the highest recognition that a K-12 mathematics or science teacher can receive for outstanding teaching in the United States. Hancock teaches seventh-grade mathematics at South Middle School and Wilmes teaches Advanced Algebra, Geometry, and Essentials of Math at Holt High School. "It is such an honor to be considered a finalist for this award," shared Hancock, who has worked for the WSD for six years. "I am grateful to have amazing support from administration and to be part of the extraordinary group of educators and students who call the Wentzville School District home."
The awards are given to mathematics and science teachers from each of the 50 states and four U.S. jurisdictions. It recognizes those teachers who develop and implement a high-quality instructional program that enhances student learning. As state-level finalists, Hancock and Wilmes are both now candidates for the Presidential Award and the White House will announce those winners next year. Those selected for this Presidential honor will receive a $10,000 award from the National Science Foundation and an all-expenses-paid trip to Washington, DC, for an awards ceremony, educational events, and visits with members of Congress and the Administration.
"I am very honored and appreciative of being named a finalist for this award," shared Wilmes, who has also worked for the WSD for six years, "It represents our Wentzville teaching community and the expectations we strive to put forward each day to make a positive impact for our students. I look forward to continuing to represent the Wentzville School District and collaborating with my peers to make math a positive experience for our students." Hancock and Wilmes represent the eleventh and twelfth WSD educators since 2012 to be named finalists in the running for the prestigious recognition for excellence in teaching. Four WSD educators: Laura Parn (2012), Katherine Schack (2014), Stacey Wade (2017), and Terri Politte (2018), were all named recipients of the Presidential Award during that time.
"Jennifer and Justin are both deserving teachers of this distinguished recognition," said WSD Superintendent Dr. Curtis Cain. "They join a long line of outstanding and respected educational leaders in Missouri and the Wentzville School District, and we are extremely proud of their accomplishments on behalf of students."
The PAEMST award was established by Congress in 1983, and the program authorizes the President of the United States to bestow up to 108 awards each year. Awardees serve as models for their colleagues, inspiration to their communities, and leaders in the improvement of mathematics and science education. The National Science Foundation administers PAEMST on behalf of The White House Office of Science and Technology Policy.