Return to Headlines
Registration Open for 10th Annual Back to School Fair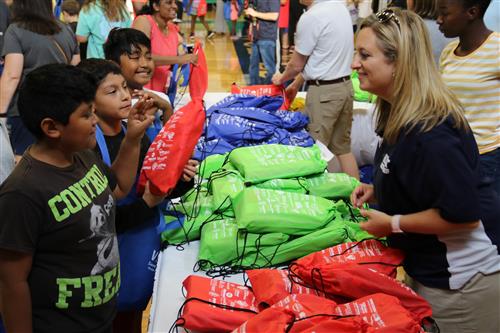 REGISTRATION IS OPEN for vendors who want to participate in the Wentzville School District's 2020 Back to School Fair! The Back to School Fair is Saturday, August 15, 2020 from 8:00 a.m. - 11:00 a.m. at Liberty High School (new location).
*PLEASE NOTE: Given the current pandemic, we are considering alternate plans for this year's Fair, which may include assigning times for families to attend in an effort to maintain social distancing. The specifics of the Fair will be determined closer to the event date, but for now, we are moving ahead with plans to hold the Fair for our families.
To register as a vendor for the event, please complete this form, or give us a call and we will get you registered. Payment can be made via check, made out to the Wentzville School District or via Paypal using this link: paypal.me/WSDfoundation/.
REGISTRATION CLOSES FRIDAY, August 7, 2020.
The Back to School Fair is open to businesses and community groups as a means to reach our families in one place at one time. It is also intended to help our lower-income families as we distribute thousands of dollars' worth of free school supplies at the event. Last year's event drew over 3,000 people and we gave away over $12,000 in free school supplies. It is a great event and the registration fee for businesses is only $60 ($85 if you need access to electricity). Those fees are used directly to purchase school supplies that are given to students in bags at the Fair. Provided with your registration are one table, two chairs, and a sign. We ask that you bring your own skirting for your table. Additional tables are available for $30.
Registration for non-profit groups is only $10 ($35 if you need access to electricity) and we ask that you provide a free school supply to hand out to students at your booth. Provided with your registration are one table, two chairs, and a sign. We ask that you bring your own skirting for your table.
The event is free for District families and will feature dozens of vendors (last year 100 vendors participated), free school supplies, games and fun activities for children. MoCHIP will be on hand once again this year to provide free child identification kits for children.
"The Back to School Fair is designed to bring together local businesses, community groups, and our District families in one place to share valuable information, discounts and free school supplies in a fun and festive atmosphere," said Chief Communications Officer Mary LaPak. "It is beneficial to our families and our community and it's a tremendous way to kick off the new school year."
Those attending, as well as event vendors, are encouraged to bring a non-perishable food item to donate at the door to Operation Food Search which serves local families in need.
Date:

Saturday, August 15

Time:

8:00 am to 11:00 am
VENDORS: Please arrive at least 30 minutes early to set up

Location:

Liberty High School
2275 Sommers Road
Lake Saint Louis, MO 63367

Directions: Click to view
If you choose to pay by check, please make payable to the Wentzville School District and mail or drop off to:
Community Relations
ATTN: Mary LaPak
280 Interstate Drive
Wentzville, MO 63385
If you have any questions, contact Mary LaPak at marylapak@wsdr4.org or 636-327-3800 ext. 20352.
A Special Thank You to Our 2020 Back to School Fair Corporate Sponsors to date:
Walmart - Wentzville & Lake Saint Louis
Promotions Pronto
Kona Ice
Wentzville Fire Protection District
Humphrey Orthodontics
Peoples Savings Bank
Hoener Associates, Inc.
Pediatric Dentistry of Sunset Hills
Otto Orthodontics
Family Church of Lake Saint Louis
Medicine Shoppe Pharmacy
Stifel

We are still looking for Corporate Sponsors for the Fair. Corporate Sponsors pay $300 which is used entirely towards the cost of the bags and school supplies. Corporate Sponsors receive a table at the event in a prime location of your choice and your logo will be printed on bags used to distribute the free school supplies at the Fair. The deadline to register if you would like to be a Corporate Sponsor is July 17. Visit https://tinyurl.com/WSDbacktoschoolFAIR2020 to register as a Corporate Sponsor.