Return to Headlines
District Announces Free & Reduced Meal Guidelines for 2018-19 School Year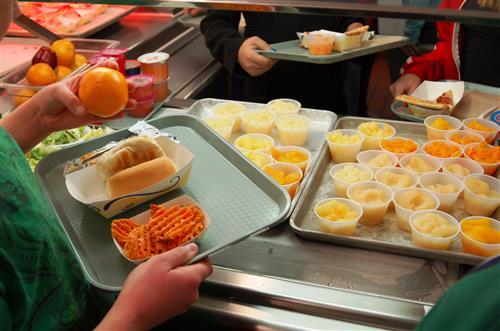 The WSD has announced its revised free and reduced meal price policy for school children unable to pay the full price based on family income. In February of this year, the WSD Board of Education voted unanimously to take the Child Nutrition Program out of the National School Lunch Program (NSLP) for the 2018 - 2019 school year in an effort to improve meal offerings and increase the number of students who eat breakfast and lunch in its school cafes. The WSD has adopted the following family-size income criteria for determining eligibility for free meals under the USDA Special Milk Program:
Household

Maximum Household Income

Size

Eligible for Free Meals

Annually

Monthly

Weekly

1

$15,782

$1,316

$304

2

21,398

1,784

412

3

27,014

2,252

520

4

32,630

2,720

628

5

38,246

3,188

736

6

43,862

3,656

844

7

49,478

4,124

952

8

55,094

4,592

1,060

Each add'l

member

+ 5,616

+ 468

+ 108
Children from families whose current income is at or below those shown are eligible for free milk under the Special Milk Program and free meals under the new WSD guidelines.
The WSD will use the following criteria to determine a family's eligibility for reduced price meals:
Household

Maximum Household Income

Size

Eligible for Reduced Price Meals

Annually

Monthly

Weekly

1

$22,459

$1,872

$432

2

30,451

2,538

586

3

38,443

3,204

740

4

46,435

3,870

893

5

54,427

4,536

1,047

6

62,419

5,202

1,201

7

70,411

5,868

1,355

8

78,403

6,534

1,508

Each add'l

member

+ 7,992

+ 666

+ 154
Applications are available at the school office. To apply for either free or reduced meals, fill out a Free Milk Family Application and return it to the school. Please fill out only one application per household. You will be notified of your eligibility status after your application has been received and processed. The information provided on the application is confidential and will be used only for the purpose of determining eligibility. Applications may be submitted any time during the school year. A complete application is required as a condition of eligibility. A complete application includes: (1) household income from all sources or Food Stamp/Temporary Assistance case number, (2) names of all household members, and (3) the signature and last four digits of social security number of adult household member signing the application. School officials may verify current income at any time during the school year.
Foster children may be eligible regardless of the income of the household with whom they reside.
If a family member becomes unemployed or if family size changes, the family should contact the school to file a new application. Such changes may make the children of the family eligible for these benefits.
Under the provisions of the policy, the Administrative Assistant for Child Nutrition Services will review the applications and determine eligibility. If a parent is dissatisfied with the ruling of the determining official, they may wish to discuss the decision with the hearing official on an informal basis or he may make a request orally or in writing to the Assistant Superintendent of Administrative Services, 280 Interstate Dr., Wentzville, MO 63385.
Hearing procedures are outlined in the policy. A complete copy of the policy is on file in each school and in the Administrative Center where any interested party may review it. There is also a Frequently Asked Questions document on the WSD website under the Child Nutrition Department regarding the District's new meal program.