Return to Headlines
Three WSD Teachers Named Emerson Excellence in Education Award Winners
Nov. 7, 2023
Wentzville School District's Jodi Owens, Leslie Brown, and Megan Merz received 2023 Emerson Excellence in Teaching Awards, joining an elite group of teachers from across the St. Louis region with this honor.
This award recognizes teachers for their outstanding and innovative work in the classroom on behalf of students, passion for teaching, and impact on student learning.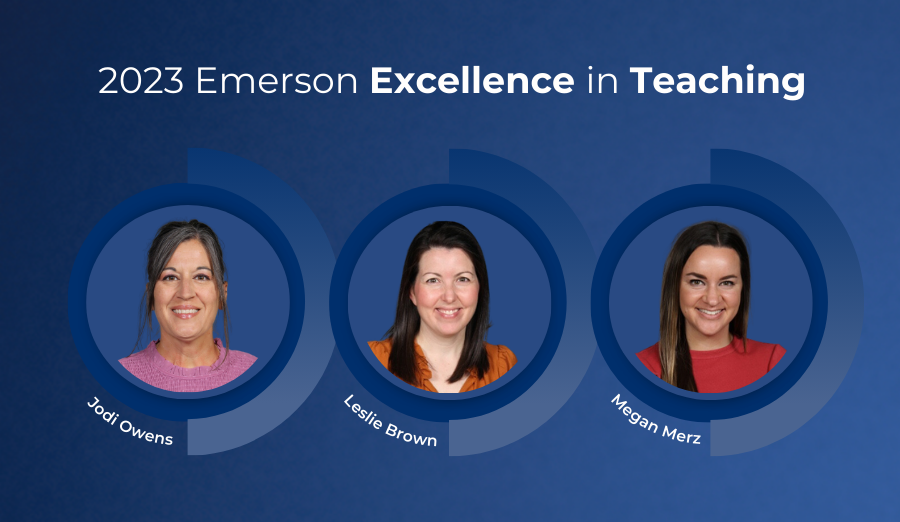 Jodi Owens, special education teacher, has worked at Wabash Elementary for seven years.
"Mrs. Owens is an advocate for all kids, ensuring that their unique needs are always in mind," said Matt Schulte, Wabash Elementary principal. "She is quick to focus conversations, meetings, and collaborations on what is best for our students' needs."
Schulte also shared that Owen's work as a professional inspires other educators to take their work to the next level as well. She is detail-oriented and well-planned. Owens always begins with the end in mind, helping to ensure everything aligns with our high-priority goals.
Leslie Brown, math teacher, has worked at North Point High School for two years and in the WSD for four.
"Mrs. Brown can light up any room she walks into and make you smile even on a rough day," said Dr. Amanda Shelmire, North Point High principal. "She goes above and beyond to assure her students have every opportunity to find success by making math fun and easy to learn."

Shelmire also shared that Brown strives to look for out-of-the-box methods to engage her students by embedding movement, games, and math conversations into her classroom.
Megan Merz, fifth grade teacher, has worked at Journey Elementary for two years and in the WSD for six.
"Megan Merz is an outstanding teacher whose classes demonstrate notable academic and social growth each year," said Dr. Emily Dittmer, Journey Elementary principal. "By the end of their time in her class, students are prepared to be independent and successful in middle school." Merz has also served as a 4E trainer, grade level chair, and on a variety of building and district committees.
This annual recognition of educators by Emerson, the St. Louis-headquartered global technology and engineering company, is part of the company's commitment to promoting quality education throughout our community.
The Excellence in Teaching Awards program began in St. Louis in 1989. Recipients of the Excellence in Teaching Award who teach grades kindergarten through high school can also apply for a Gold Star Grant from Emerson. These competitive grants fund educational projects that reflect the key pillars of Emerson's identity – technology, innovation, and leadership.