Return to Headlines
LHS Student Places First in the DECA International Career Development Competition this April
May 26, 2023
Liberty High School (LHS) student Arthi Kondapaneni placed first in the Community Giving Project category of the DECA International Career Development Competition this April in Orlando, Fla. She faced 164 competitors before taking home the gold. Liberty DECA was the only school in the entire state of Missouri to bring home a first-place trophy!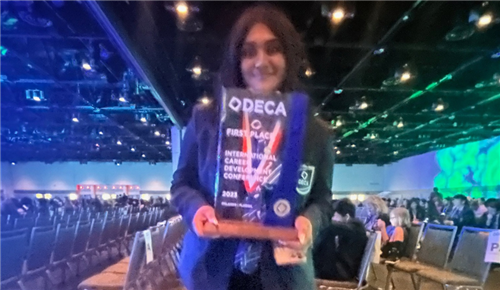 Arthi Kondapaneni
Also from the Wentzville School District, Madalyn Breckenridge and Brooke Suftko, from LHS, finished in the top 10 at internationals in the Sales Project category. Austin Schulte and Luca Davito, from Timberland High School (THS), were finalists at internationals in the Business Operations Research category.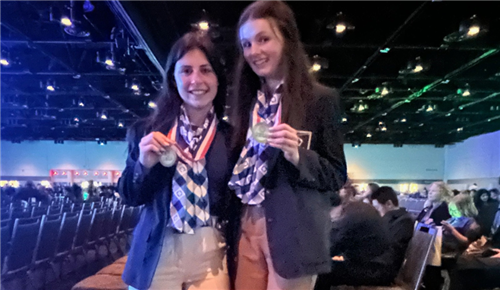 Madalyn Breckenridge and Brooke Suftko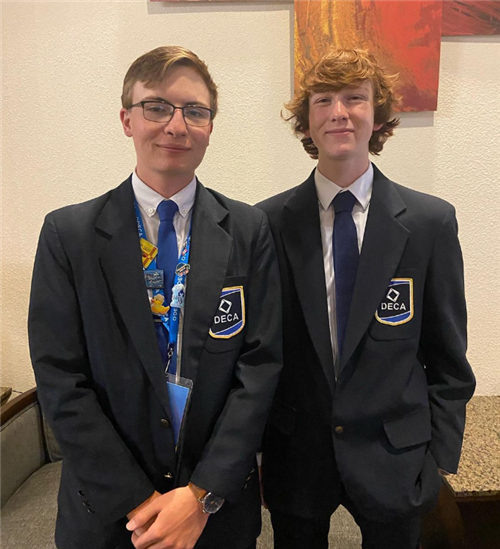 Austin Schulte and Luca Davito
DECA prepares emerging leaders and entrepreneurs for careers in marketing, finance, hospitality, and management in high schools and colleges around the globe. There were 22,000 students who competed in internationals from America, Canada, Spain, Germany, Guam, China, and other countries.
Breckenridge, Davito, Kondapaneni, Schulte, and Suftko were invited to the Governor's Mansion to be recognized for their accomplishments.
All WSD DECA international qualifiers include:
Alicia Jorgensen (THS)
Aneesh Dahuja (THS)
Aicha Beye (LHS)
Arthi Kondapaneni (LHS)
Ashley Thomson (THS)
Audrey Fleetwood (LHS)
Austin Schulte (THS)
Ava Reidy (LHS)
Bailey Renfro (THS)
Brooke Suftko (LHS)
Cameron Wright (LHS)
Christian Cuadra (THS)
Courtney Wilfong (THS)
Dillon Roberts (LHS)
Dominick Haley (LHS)
Drake Politte (LHS)
Gabby Rettinghaus (THS)
Isabella Casas (LHS)
Kalyn Williams (THS)
Layla Collier (THS)
Leah Kaler (LHS)
Luca Davito (THS)
Maddie Taylor (THS)
Madalyn Breckenridge (LHS)
Manav Vinotha (LHS)
Ryan White (LHS)
Tabitha Schacht (THS)
Tyler Bryant (THS)
Vianca Malave-Torres (LHS)
Prior to the national competition, WSD students from all four high schools — Holt, Liberty, North Point, and Timberland — competed in District Six (the largest district in the state) at the State Career Development Conference on March 12-14, in Kansas City, Mo. Below are the WSD students who qualified to compete at the state competition:
HOLT STATE QUALIFIERS:
Abigail Bausch
Brooke Schottel
Calissa Waltz
Courtney Rikard
Fuller Young
Gabriel Stroud
Grace Peters
Grace Wood
Hayden Bartel
Joselyn Roe
Lillian Palmgren
Kaitlyn McNeely
Kylie Ward
Molly Hunn
Morgan Cooper
Nicholas Sauers
Samuel Gawedzinski
Samantha Wainscott
Shane McDaniel
LIBERTY STATE QUALIFIERS:
Addie Ritchey
Aicha Beye
Arthi Kondapaneni
Ashley Vieluf
Audrey Fleetwood
Ava Reidy
Brooke Suftko
Carmen Brassel
Cameron Wright
Campbell Bahr
Dillon Roberts
Dominick Haley
Drake Politte
Isabella Casas
Jessica Wagner
Jillian Garcia
Jon Howell
Kaitlin Stumpf
Leah Kaler
Madalyn Breckenridge
Manav Raja Vinotha
Morgan Moomey
Nathan Bobikiewicz
Nick May
Nolan Chambers
Payton Guffey
Payton Hemmer
Raksha Thiagarajan
Rathi Thiagarajan
Ryan White
Ryleigh McKinney
Sathvika Pudur Ravi Shanker
Serena Bartels
Vianca Malave-Torres
NORTH POINT STATE QUALIFIERS:
Mariah Robinson
Samantha Horn
TIMBERLAND STATE QUALIFIERS:
Alicia Jorgensen
Aneesh Dahuja
Austin Schulte
Bailey Renfro
Carson McClain
Carter Lutgen
Christian Cuadra
Courtney Wilfong
Gabby Rettinghaus
Gavin Peimann
Ian Pryor
Kalyn Williams
Layla Collier
Luca Davito
Mattie Sellers
Reed Corrigan
Tabitha Schacht
Tyler Bryant